Racism can be deadly. And to eradicate it, it requires strong medicine. Catriceology  serves up anti-racism education with a no nonsense, candid yet compassionate approach that's transforming lives from the inside out. Women who attend her workshops become BETTER human beings .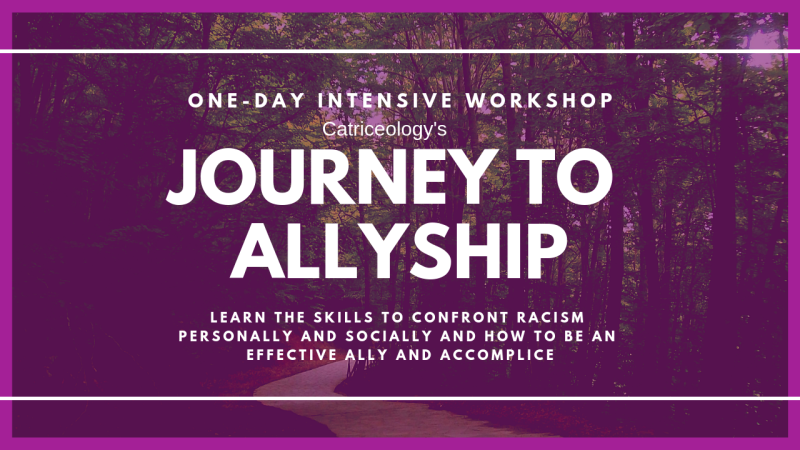 Journey to Allyship Video Course: This is a DYI-Self-Study Program: You'll receive 2 video lessons per week for 6 consecutive weeks that will help you illuminate your racist blindspots. Each video lesson is designed to enlighten you to SEE how racism is violent to black and brown people and toxic to you. The videos include actionable steps to become more awakened and intentional about uprooting your own racism and dismantling systemic racism. You will receive the links to watch the videos via email. 

Each week you'll also receive take action writing prompts to help you identify the weapons of whiteness you use to harm black and brown people and offer instead actions to be non-violent and strategies to support, center and amplify black and brown people. 


NEXT COURSE STARTS IN JUNE 
Catriceology SHETalks WETalk RaceTalks for Women Workshop: A powerful and transformational moment when women come together for 2 days to talk about race and racism. It's a A weekend workshop where you learn how to be a strong and effective Ally and Accomplice for women/people of color. You will take a deep and honest dive into race, racism, whiteness, and white supremacy. This is not a sit and take notes workshop. You will be stretched way outside of your comfort zone and examine your own beliefs, thoughts and behaviors that perpetuate racism. ​


Antagonists, Advocates and Allies boldly beckons White women to come from behind their White Picket Fence, enter the classroom of "Living While Black and Brown 101", take a seat, don't talk, listen and finally hear what you've failed to hear for centuries. The elimination of racism starts and ends with you. It's time to roll up your sleeves and get to work.  

You're not MAGIC for nothing! When Becky comes to Deny, Defend, Derail, and Destroy, you can whip out The Four D's for Defying the Beckery. The Becky Code teaches you how to defy her deadly weapons, resist her wrath, and activate your magic to not only survive, but to thrive and experience deep, rich, and abundant joy!  

White Spaces Missing Faces identifies eight reasons women of color don't trust white women and offers candid commentary on what white women need to do to earn and keep the trust of women of color including solutions for decontaminating white spaces.